Description
Is the cans difficult to open?
Yes, they often break nails and cause pain!
Dust or flies can fall into drink cans on a picnic, isn't that disgusting?
That's why you need this can opener.
Stop cutting nails into can caps! Make finger pain a thing of the past !!!
No more bees or dust in your drinks!
Small and portable to take with you wherever you go!
Improve your picnic and barbecue experience !!!
FEATURES: 
MAKES FINGER PAIN

A thing of the past No more sore fingers or broken nails. Save your nails with the can opener, quickly and easily by opening the beverage caps.

NO MORE BEES OR DUST IN YOUR DRINK The

can opener can also be used as a beverage barricade to cover your drink and protect your drink from insects and dirt. Whenever you're ready to take a dip, just turn the drink ladder to the other side and enjoy your insect-free drink!

SUITABLE FOR ALL SIZE BEVERAGE CAN

This is suitable for all standard aluminum cans of 6oz, 8oz, 12oz or 16oz. Perfect for a picnic, backyard barbecue, hiking, cooking or gathering family / friends. Small and easy to carry

DISHWASHER DURABLE

The can opener is reusable and safe for the dishwasher. Made of durable plastic material, they can last a long time.

EASY TO USE

It is very intuitive to use, even children can use it quickly. Just slide it onto the tab until it locks, lift it up to open the can, and then turn it to cover the mouthpiece. The whole thing takes less than 2 seconds!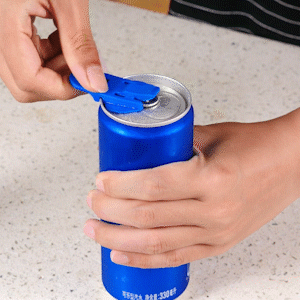 TECHNICAL INFORMATION:
Material: ABS
Weight: 5G
Size: 8 * 3 * 1CM
Color: purple, blue, green, yellow, orange
Packing: 1 * Easy can opener